What's your oldest working motorcycle battery? Mine's a Yuasa from June of 2004. I've kept it on a charger every winter, but besides that it's received no special treatment. Last year I thought would be the end of it. Prior to every cold start I would jump the bike from a car battery to ease the starting strain, but during the ride it still worked normally.
This spring I decided to apply my homemade desulfator to it. I've had good luck resurrecting dead computer UPS batteries with it (two out of three successful). The circuit uses high-frequency (megahertz region) pulses of about 60 volts to desulfate a lead-acid battery over the course of a week to a month. It seems to have revived the Yuasa battery to a remarkable degree too.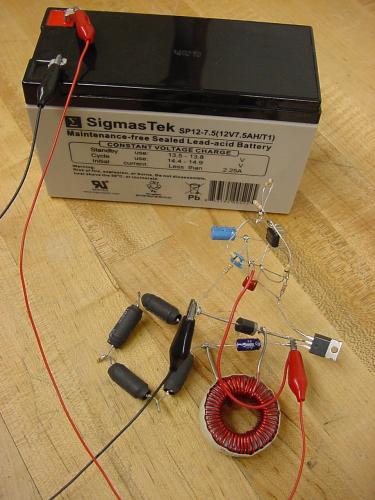 If you want to try it for yourself, the following link will download a .PDF for the original circuit (not my design). Errata found elsewhere states that C2 should be 0.0022 μF, not 0.022 μF. I modified the design somewhat to accommodate inductors I had on hand anyway.
https://www.google.c...ULtjDyibVNHyaoP
Here' a ready-made example of that circuit for about $14:
https://www.ebay.com...usAAOSwertcyxWA
Directly out of China, the cost is about $7:
https://www.ebay.com...zsAAOSwarNZujtb
Note that you must also connect a battery charger while the desulfator runs. This is because the desufator takes energy out of the battery, and then puts it back in (but not with 100% efficiency). If you don't replenish that energy, the state of the battery's charge just gets lower and lower. And, if the battery is completely dead there's nowhere for the desulfator to get the energy in the first place.
I used this Horrible Freight model
https://www.harborfr...rger-42292.html
because I was concerned the pulses might damage my Battery Tender. But any old-school charger that just uses a transformer and diodes should not be harmed. The only problem with the HF charger is that it can't quite keep up with the desulfator so, once desulfated, you would need to fully charge the battery prior to using it. A side-benefit of the HF charger is that it only draws about 2 watts of AC power.