Over the winter I studded some Grom tires and rode on Lake Martha. Tons of fun!
Video from our old friend Momentum Photo
Now I bought a 2nd Grom for a standard commuter and something to let family and friends ride who don't have a Grom/Scooter. I also want to use it as learner bike since I've spoken to so many people that want to learn to ride but don't have an opportunity to do so. (My primary Grom is built for stunting and not great for beginners.)
The plan...
...is to build up my primary Grom to get some more HP and get it to cruise around a little more effectively. A stock Grom gets about 8.5hp to the wheel and if I go the route of a "Super 125" build, it will be about 15hp. The Super 125 kit keeps the 125cc cylinder and lower hardware, but adds a high compression piston, replaces the stock head with a ported/polished head, stiffer valve springs, larger throttle body/intake and a larger injector. A big bore kit (BBK) would be a bit cheaper, but the reliability on them doesn't seem to be quite as good.
I also have a new oil pump coming that will pickup oil from the back of the case during wheelies.
I have already built up the front suspension with an Ohlins kit and put a YSS shock in the rear. This alone was a complete transformation. With the engine build it should be a capable little scooter.
I also bought a new set of plastics (Full OEM set $126

) This set is black. I might mix and match with the yellow, but I like the idea of going all black.
And I just picked up a 2nd set of OEM wheels to mount up my summer tires. Wheels are NOT as cheap as body work! This way the ice tires can stay right where they are on the original wheels.
The last piece I'll have to get before finishing the engine build is an aftermarket exhaust. I want to stay stock for keeping the volume down, but that would kill power on this build. Best exhaust option I can see now is the Yoshimura RS-2. It comes with a silencer plug.
I haven't bought the Super 125 kit yet, but it will happen soon. The guy says he won't have stock in till the end of April.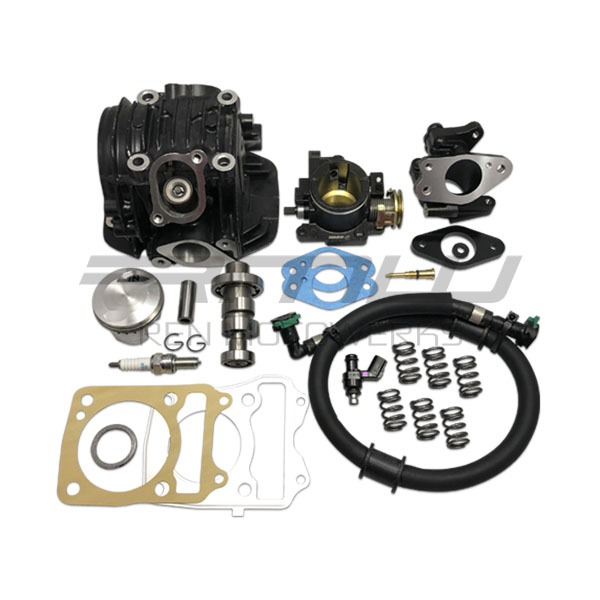 Updates:
Build complete
Engine blows up
New build discussion
New build begins
Build complete + Initial thoughts